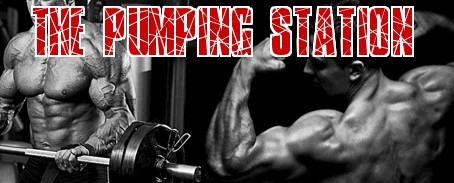 The Pumping Station | Bodybuilding Supplements | Weight Training Information
Weight Training Exercises | Weight Training Workouts | Muscle Building Nutrition
FREE Bodybuilding Program
Amazing New Maximum Pump Training Builds Huge Slabs of Muscle Mass!

Enter your first name and a valid email address for instant access to the free workout program.


The Pumping Station's Workout Log
Three Day Weight Training Workout For Mass
DATE _______________ TIME _______________
Instructions: In the white spaces below, fill in the weight you used and the number of reps you performed.
If you did 100 pounds for 10 reps, you would write "100 X 10". The gray boxes below are not used.
| | | |
| --- | --- | --- |
| EXERCISE | Warm-up | Set#1 |
| Squats | | |
| Leg Extensions | | |
| Leg Curls | | |
| Dumbbell Pullovers | | |
| Barbell Overhead Shoulder Press | | |
| Seated Rows | | |
| Bench Press | | |
| Barbell Bicep Curls | | |
| Tricep Extensions | | |
| Weighted Pullups | | |
| Weighted Dips | | |
| Standing Calf Raises | | |
| Abs | | |
Weight: ____________
Mood When Starting: __________________________
Cardio Today? Circle One: YES NO Length: ________________
Length Of Workout ______________________
Comments:
© 1999 - 2015 ThePumpingStation.com
Site Map
Terms of Use - Disclaimer - Privacy Policy